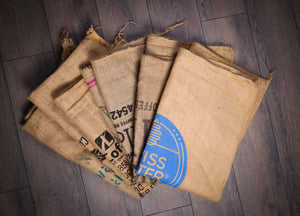 Authentic Burlap Coffee Sacks
Give used burlap sacks a second life.
Shipping to Canada and USA.
Perfect for DIY projects.
Prices in USD.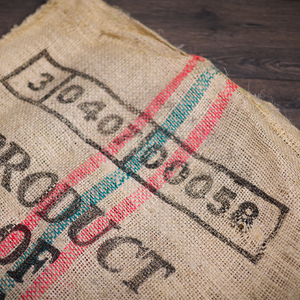 The ICO Mark
A hand-stenciled identifier that shows where a sack originated. The code corresponds to the country, the growers and the parcel number. 
Here are some example country codes: 
Brazil – 002
Costa Rica – 005
Kenya – 037
Thailand – 140
The Graphics
Each burlap bag also has unique graphics— think of it like a flag representing the country or region.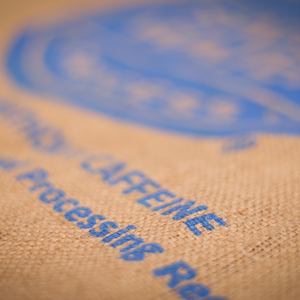 Natural Fiber
Burlap is made from jute, a natural vegetable fiber— which makes burlap biodegradable and compostable.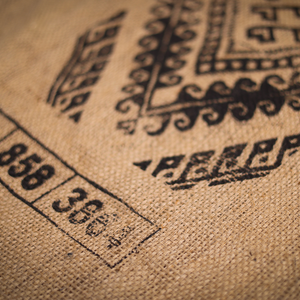 Heavy Duty
Burlap is a heavy duty material— these sacks are designed to hold 150 lbs of coffee beans. One reason they are often used as burlap potato sacks.

What are used burlap sacks?
Brazil began manufacturing burlap sacks as a way to transport and store unroasted coffee beans. Over time it became the worldwide standard. 
It turns out burlap and coffee beans are a complimentary match. 
Burlap (also called hessian) is a natural, high quality fabric that is useful for storing and transporting green, unroasted coffee beans. 
Unroasted coffee beans are highly sensitive to moisture— so they need lots of room to breathe. Burlap leaves plenty of room for air circulation while also being heavy duty— when filled with coffee beans, burlap sacks can weigh around 150 lbs! 
Burlap sacks only store green, unroasted coffee beans. Roasted coffee beans age quickly if they are exposed to air— that's why when you buy roasted coffee beans they're in vacuum sealed packages. 
The life of a burlap sack rarely ends once the beans are roasted. Instead since natural burlap fabric is a reusable material, bags are useful for DIY projects, gardeners, tote bags, and much more. And that's where we come in: The Happy Burlap ships used burlap coffee sacks to anyone in Canada and the United States.   
Note: Burlap sacks go by many names. They can also be known as gunny sack, jute bags and hessian sacks.

The Happy Burlap
123 Fake St.
Toronto, Canada
Mon - Fri, 10am - 9pm
Saturday, 11am - 9pm
Sunday, 11am - 5pm